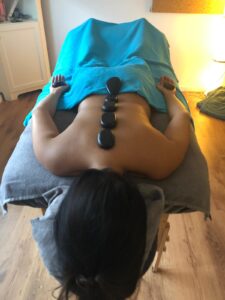 We all experience stress, if we undergo too much stress our physical and mental body is expressing this in blockages. Pains, restrictions in movement or mental stress.
Working with massage and or Yoga will create a bigger understanding of your body and hands you tools to work with for self-healing.
In sessions we work towards a specific goal or complaint to work at. There wil always be a short chat before the session to reflect what is needed.
Alchemy of Touch as a base for pain release and prevention of blockages is a combination: deep tissue, fascia release or with use of shiatsu- and triggerpoints combined in one session.
All massages are tailor made on what is required.  Always therapeutic and relaxing with a holistic approach.
 Sessions by Yoga Hands
Single session massage

Combination session Stress release by Yoga Hands (link to yoga stress release)